Hive Share – one payment, lifetime honey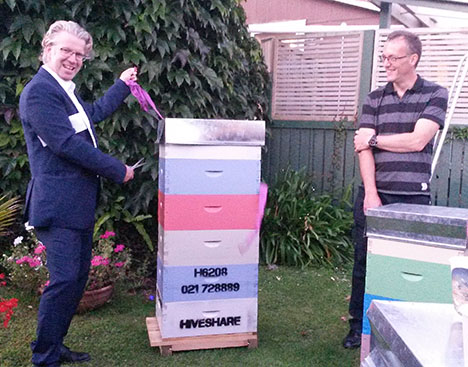 Hive Share has been so successful that we have now closed it to new subscriptions as at March 2021. It has served its purpose of helping us in our startup phase.
We had over 30 people purchase bee hives in our 2017 first year of Hive Share and have had a steady stream of people join since then. Mayor Hamish McDouall cut the ribbon at our Canaan Honey launch party in February 2017.  We have held Harvest Festivals in April 2018 and 2019. Our 2020 year harvest festival was cancelled due to COVID-19 but we couriered honey in May 2020.
Hive Share – invest in a hive that we look after on OUR sites – see below
Rent a hive for YOUR property
BUY a hive to be totally yours – either Autumn/Winter (Feb-Aug), Spring (Oct-Dec) either a single box or nuc
The Offer (now closed)
For a one off bee hive purchase of only $920 ($460 half a hive) you get 7kg of honey per year per hive for a lifetime.
In the first year you get an amount of honey depending on when you sign up per the table below.
Have a friend sign up with you and you each get an additional 1kg honey signup bonus per hive.
7 x retail 1kg container @ $16 (1kg) = $112 / $920 for one hive = 12.17% return.
If you supply your own containers, you get additional honey to the value of the container.
Hive Share
It seems that every week beekeeping is in the news. With increased awareness about our environment, many are wanting to learn more about nature's incredible insect. The earth is incredibly dependant on bees with over 35% of our crops reliant to some extent on the honey bee for pollination. But not everyone is able to keep bees in their backyard and bee hive rental in backyards can be expensive with little honey in return.
Enter Hive Share.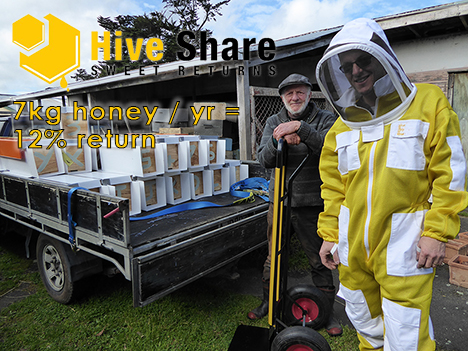 Imagine owning your own bee hive and having someone manage it for you on their hive site (not at your property).
Imagine being able to be part of taking the honey off the bee hive, then seeing it extracted in a boutique honey shop/factory that has been operated from Whanganui for the last 37 years.
Imagine getting a very healthy sweet return on your beehive purchase.
Imagine a lifetime supply of honey!
Hive share enables all New Zealanders the opportunity to become beekeepers and keep in touch with nature's incredible insect.
Beekeeping is in the news
New Zealand has tripled its number of bee hives in the last 15 years from 300,000 to almost 925,000 in June 2019. Whanganui has an active beekeeping community with many commercial beekeepers and hobbyists. Over 20 were part of a community education course taught by John Brandon, and over 30 at a local UCOL course. Beekeeping is mentioned as one of the regional growth opportunities for the Whanganui region.
What we do
We manage the beehives for you, we cut the timber, screw the boxes together, wax the frames, breed the queens, professionally manage the hives on our sites, pay the hive levies, … And finally harvest the mouth-watering honey and pack and send it to you for to spread onto your toast or sneak a gourmet spoonful.
Buy a bee hive, get a lifetime supply of honey, visit us and see the honey harvested
Bee-come a bee keeper and we will manage your hives for you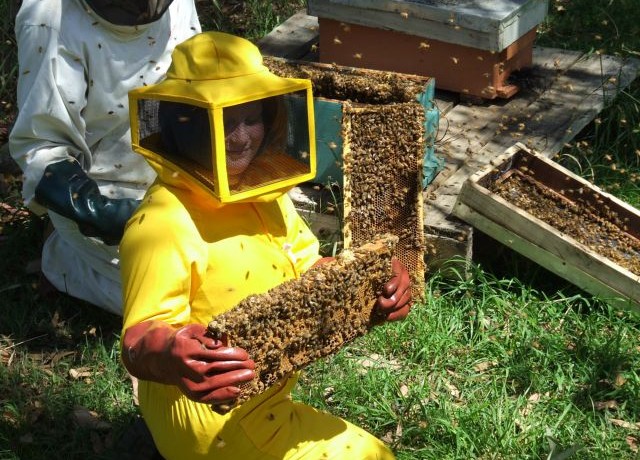 Buy a honey bee hive for only $920 incl GST ($460 for half a hive)
Pay in one sum, or in three easy monthly instalments of $307
Purchase now and receive your first honey in April each year
Second year onwards

receive 7kg of honey
half a hive gets 3.5kg of honey
7 x retail 1kg container @ $17 = $112 / $920 = 12.17% return
Bonus for own container honey – come to Canaan Honey in Whanganui, choose your honey flavour, and receive the same value of honey into your own containers

Buy up to 7 hives per person – that's almost 1kg of honey a week to enjoy!
Freight free to your door (rural delivery 500g less honey) – New Zealand addresses only
The honey you get is free from income tax – its honey from your hive
12.17% return is the equivalent of a 17.4% bank deposit rate (30% tax rate)
Bee Education
Learn about the wonderful world of the bees as they are managed through the seasons via our Hive Share Facebook group
Smell the sweet aroma of fresh honey as we extract honey from the comb in February/March each year
Join us at our April Harvest Festival where we harvest, extract and taste our sweet honey
Who we are
We are four generations of family. Now 40 year veterans John and Janice Brandon have retired, son Michael and fiance Melissa are continuing the business. Michael's children help and his grand daughter loves learning about bees and eating honey. Other family members are involved.
Guarantee
Your hive will be sited in a dedicated hive share apiary yard in the Whanganui area. If the apiary does not produce enough, we add in honey from our other apiaries. We will maintain the hive numbers in the hive share apiaries to ensure no risk to your bee hive purchase.
Your hive purchase will be part of the continued growth of our family bees-ness.
What you are purchasing
You are purchasing a bee hive with 2 bee boxes for their home, and another 2 boxes for their stores and surplus honey with frames and bees, a crown board, base, lid and top feeder. We supply hive management and extra honey boxes on top. As of 1 July 2019, the two boxes were added to the purchase value for new hive share signups.
You can on-sell your hive share to another person by notifying us of the new purchaser's details.
After the first two years, you have the option of collecting your hives to look after yourself – but only after harvest in April to June each year. We need two months' notice and any hive redemption is limited to 10% of the total hive share hives in any one year.
You can sell the hives back to us (at our option) either for ourselves or to resell to others – buy back at 90% of the current hive share rate.
The hives will be on farm pasture or close to Whanganui township (not Manuka).
More Information?
Please contact Michael Brandon [email protected] mob 021 728889 if you have any questions.