Hive Rental Whanganui – rent a hive or two for your backyard or lifestyle block.
In February 2017 we launched Hive Share. Now we offer Bee Hive Rental Whanganui where you can have a bee hive in your backyard. Normally we have 20+ hives at a property, but large apiaries are not appropriate for the Whanganui city area so we are offering hive rental for up to two hives at your city or lifestyle block property.
rent a hive for YOUR property – this page
invest in a hive (Hive Share) that we look after on OUR sites
BUY a hive – either Autumn/Winter (Feb-Aug), Spring (Oct-Dec) either a single box or nuc
Over 50 people attended our Harvest Festival and launch evening Anzac Day Wednesday 25 April 2018 at Canaan Honey. We harvested honey from a hive, extracted it, and everyone, especially the children enjoyed tasting yummy honey fresh from the hive. Thanks to all for a great evening.
The offer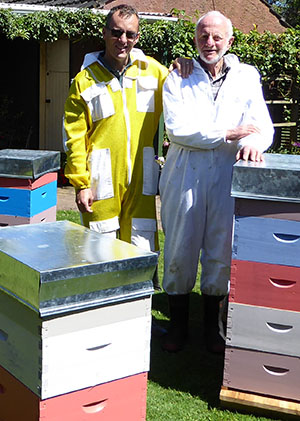 Hive Rental Wanganui offers home and lifestyle block owners the opportunity to rent a hive from as little as $40 a month, or $70 for two. We supply the hive and manage it for you, and you get up to 5kg of honey per hive per year.
We add extra honey boxes in the summer for sweet surplus honey, extract it from the comb, have it Tutin tested, granulate and package it for sending to you. We requeen the hive when needed, treat it for Varroa mite, feed it if it is running out of food, inspect it for disease (we are DECA holders with AsureQuality – Disease Elimination Conformity Agreement), and take splits off the hive in Autumn and Spring (divide the hive into two and take the second away). In spring, this helps keep the population under control so the hive is less likely to swarm.
Please let us know if you are able to have 10-20 hives, and if the site is suitable – rather than you pay us, we will give a percentage of the honey harvest per year.
The Bees
Welcome to the world of bees, bees and more bees. We need them for yummy honey, farmers need them for clover and crop pollination and city folk need them for pollination of fruit trees and in their gardens.
But it's not just pollination, bees are fascinating insects to watch and learn about, and what a better way to learn about them than having some of your own in your own backyard. Look from a window when we are working on the bee hive, or suit up to join me and see from up close.
You could own your own bee hive, but by the time you add up the cost of the hive, protective clothing, an extractor, apiary registration… it can get quite time consuming and expensive.
So what does the Whanganui District Council allow?
There are a few things that need to be considered before deciding to rent a beehive for your place. We have heaps of beehives around our home and they are not a bother. Bees are amazing insects that are intriguing to watch in action, and we can help you through the details.
Location of hives within an Urban Area section of less than 2000 m2 must comply with the following:
Hives that are shielded by a fence or suitably dense vegetation not less than 1.8 metres high may be located no closer than 3 metres from a footpath;
Hives that are shielded by a building, or a fence or suitably dense vegetation not less than 1.8 metres high may be located no closer than 10 metres from a neighbour's principal building;
A shielding plan shall be provided to ensure that the bees flight path is made to go a minimum of 1.8 metres high over the adjacent property, or road;
What we also think about
Away from general thoroughfares, clotheslines, children on trampolines, swimming pools (bees like drinking from these)
Does landlord need to be informed/permission sought
Things for you to think about
Mowing lawns – vibrations/noise can affect them
Get antihistamine tablets for stings
Make sure no-one in the family is especially allergic to stings
Bees will be on lawn flowers that children are playing on – regular mowing can help over summer
Let us know on the form below where you would like some hives, and we will check on Google maps that it is suitable, and then arrange a site visit.
Terms
Available in the Whanganui District – Bulls, Marton, Whanganui township, to Maxwell
We give you 5kg of honey per year or less depending on how much the hive produces. The honey is available following the yearly harvest in March/April.
New hive rental hives are placed between 1 April and 1 December
Minimum contract term a year unless the bees are a nuisance and need to be moved
We need access to the apiary to visit the hive at least 6 times per year outside summer, and at least 3-4 weekly during the summer months
We pay the apiary registration and honey testing fees
You pay $40 per month for one hive, $70 for two including GST (automatic payment) – once the hives are at your property
We are not liable for injury relating to the bees including stings, or for damage caused or cleanup required regarding bee droppings
Let us know you are interested